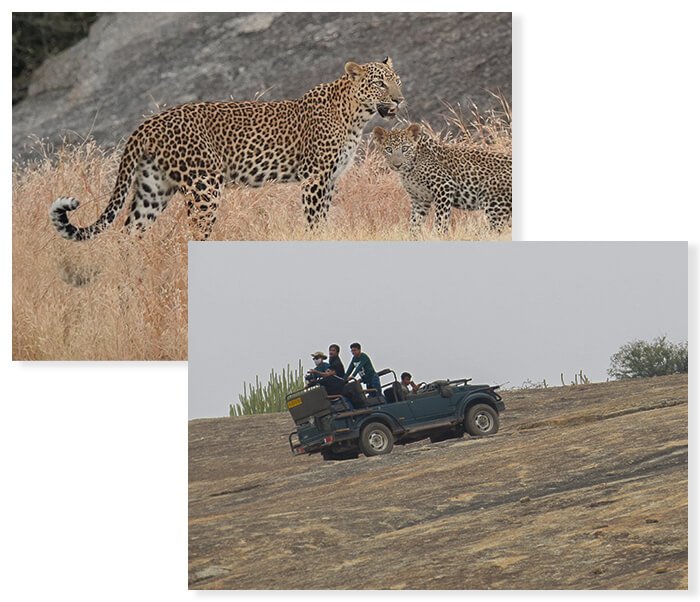 About
Jawai Pug Mark
With breathtaking views of Jawai leopard safari camp and a luxurious stay, Jawai Pug Mark helps you get closer to nature. Jawai Adventure operates leopard safari in Bera and Jawai. Also, we are specialized in a Jungle safari, Birdlife safari, wildlife Safari,crocodile sightings; Jawai is one of the significant destinations of India, especially for those who are planning to explore the Jawai leopard hill with watching these big cats in their natural habitat. Jawai is located in the state of Rajasthan.
Jawai Leopard Safari is one of the premium activities of Jawai. And Bera There are more than 60 leopards along with cubs. The increasing population of leopards in the 60-kilometer area of Jawai, making Jawai and Bera the best place in the world for leopard sightings and photography. These predators are, settled among the human villages for their daily diet of shepherd livestock and street dogs, but there is not even a single causality between humans and leopards.
Jawai is clandestine in north western region of rajasthan in District pali . Jawai area is scattered over 60 kilometer of radius covering 16 villages, 9 leopard safari points, a Jawai Bandh (water reservier) with the deepth of 62 feet deep which isspread over 5km range and in every direction you will see prodigious formation of mountains with lava rocks. While you make entry in this area these lava rocks will confirm you the right way to reach jawai.
Apart from this, Jawai is also blessed with undomesticated animal species like leopards, hyena, sloth bear, blue bull, blackbuck, wild boar, jackal, fox etc. on part of birdlife, there are 115 bird species found in this area, with 65 of them are migratory and found them from November to mid of april. Flamingo and cranes are prime attraction for visitors.

Our Vision
To be a leader in Safari business by providing affordable and unforgettable holiday experience to our esteemed customers. Bring innovation in everything we do and set benchmarks.



Our Mission
Joy of maximum vacation with value for money experience. We see an organization that aims at leadership in the Safari industry by exceeding guest expectations and designing and delivering products and services that optimize the guest experience.
Core Values
Customer Centric Approach | Quality | Transparency | Professionalism | Living Integrity | Growing Profitability | Supporting Community.





Our Strategy
Partnership with guests
We support teamwork
Relations with suppliers
Satisfaction of interesting parties